Tropical Luxury
Luxury boutique property developers & designers The Maitri Group, after years of immersing themselves in the luxury and exotic property market of Costa Rica, embarked on a mission to create something truly unique and distinct in the area. Drawing inspiration from their favorite accommodations throughout the country, they meticulously curated a concept that incorporated their preferred features, materials, furniture, décor, and design elements. The culmination of their vision and dedication can be experienced through captivating images, videos, or by simply being present in this tropical luxury boutique villas property itself.
Contemporary Tropical Architecture
The project has garnered immense popularity, becoming an overnight sensation on Instagram and a sought-after destination for locals and travelers alike. The impressive tropical contemporary architectural lines, combined with chic material choices and décor, have set this property apart as a distinctive and visually stunning retreat.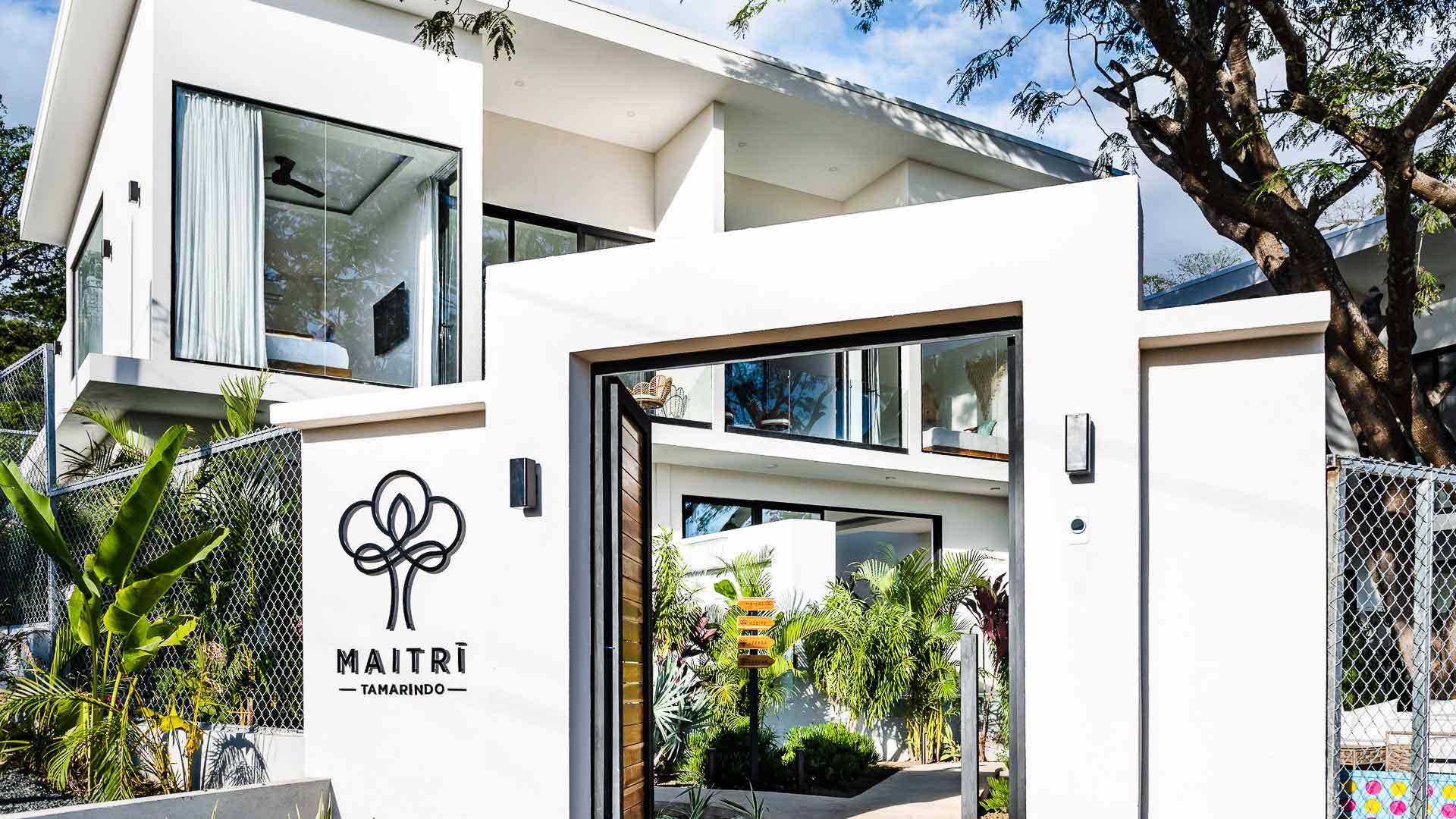 Privacy & Security
Creating a sense of security and privacy, the property is encompassed by tall palm thatch laminated walls adorned with lush, colorful tropical plants. These walls allow the cool breeze to permeate while shielding the interior from prying eyes.
Ancient Guanacaste Tree
At the heart of the design is a magnificent ancient Guanacaste tree that was thoughtfully preserved and protected throughout the building process. This majestic tree can be admired from the balconies of each villa, providing shade and serving as a focal point for a large custom deck area in the center of the property. Here, guests can relax and socialize amidst the tranquil ambiance. Additionally, plans are underway to construct a tree-level deck, offering a unique perspective and allowing visitors to experience the property from the vantage point of monkeys.
Luxury boutique
The Maitri Villas embrace the beauty of natural lighting, with both levels and sides of the building designed to maximize its benefits. Tropical plants and gardens grace the interiors of the bathrooms and showers, while large gardens thrive under the stairs. Oversized slider glass doors provide access to spacious balconies overlooking the central area, infusing the great room and bedrooms with an abundance of natural light.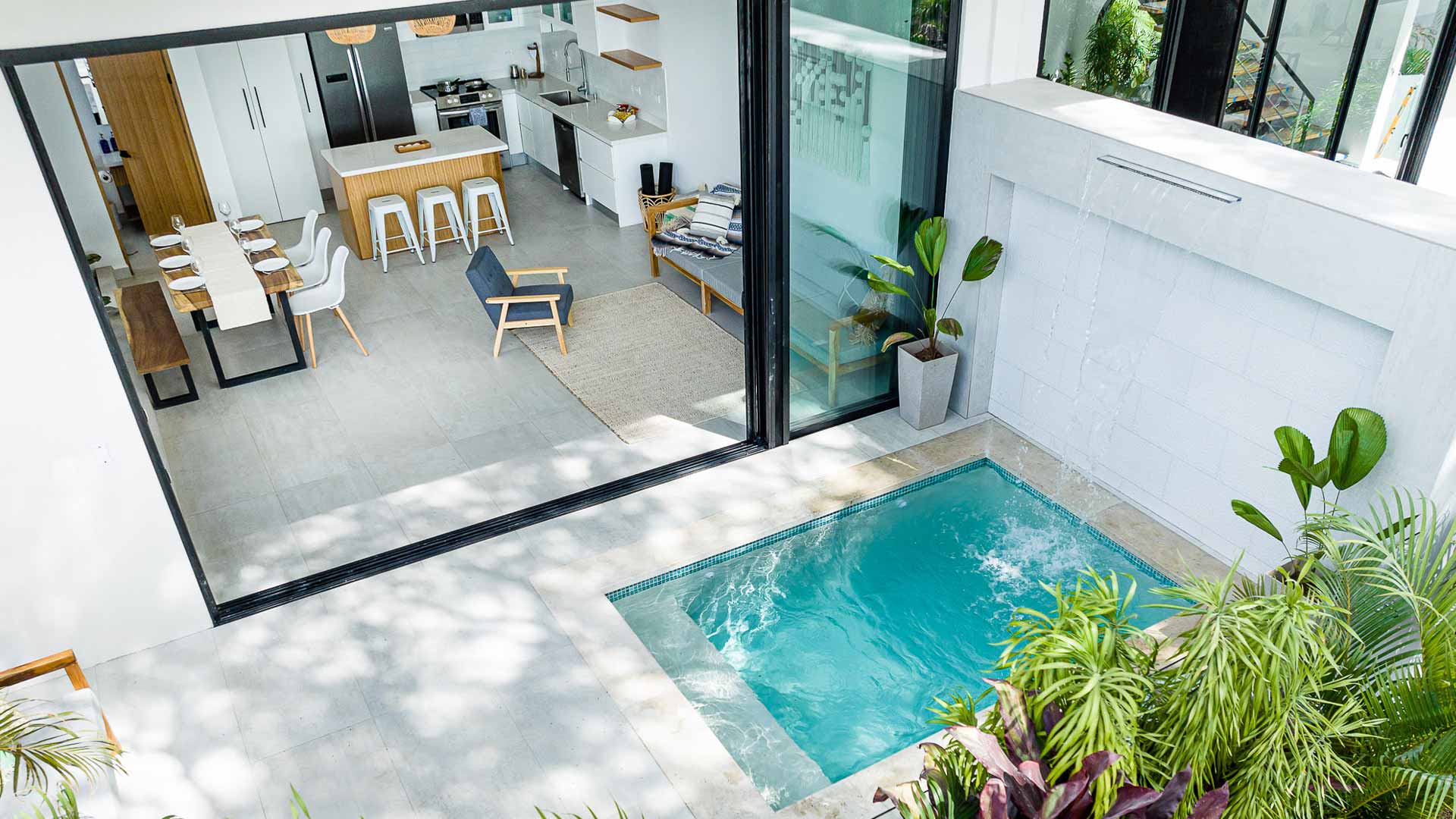 Luxury Boutique Features
The layout of the villas has been carefully considered to ensure a serene and secluded experience for every guest. The main floor encompasses a pool-facing living room area that seamlessly transitions into the kitchen and dining space, complete with a private guest bathroom. Ascending the custom teak wood stairs leads to two spacious bedrooms with breathtaking bathrooms and showers, accompanied by large private balconies. Each villa boasts a private plunge pool with a cascading waterfall feature and ample deck space. Every detail in the design and layout of these units has been meticulously planned to create a private and chic oasis in the heart of Tamarindo, where guests can find tranquility and relaxation.
View this project on HOUZZ.COM.
Get in Touch
Contact us today to explore the possibilities of building your own dream home with the Costa Construction Group. Let us guide you through the process of creating a space that reflects your unique style, while prioritizing sustainability and quality at every step.