The Pioneering Luxury Condo Remodel
Our office had the privilege of being commissioned this condo remodel project by Pavel & Kimberly Oliva of Manhattan, New York. They were looking to transform their beach front property – condo unit 303 in Horizontes del Mar – into a stunning contemporary luxury loft-style apartment overlooking the ocean. Pavel managed the financial aspects of the project, while Kimberly collaborated with local interior decorator Cathy Vanhabost to create a space that exudes sophistication and personal flair.
Iconic Beach Front Property
As the Oliva family intends to use unit 303 as their home in Costa Rica, the entire team went above and beyond to surpass expectations. This project marked the first complete remodel and update in the iconic beachfront building designed by the renowned Costa Rican architect Abraham Valenzuela, whose distinctive style has defined numerous luxury homes in Playa Langosta. The success of this endeavor has inspired other new investors to pursue similar transformations with their recently purchased condo units, leading to a comprehensive restoration of all public areas in the property.
Layout & Features of the Condo Remodel
The first level of the property features a contemporary open floor plan, highlighted by a modern custom-designed state-of-the-art kitchen and island area that seamlessly transitions into a refined formal dining setting, and further extends into the comfortable living room entertainment area. Additionally, this level comprises two spacious guest rooms, each with its own private bathroom, a laundry room, a separate guest bathroom, and ample storage space.
A flight of natural teak wood open stairs, adorned with a LED-lit stainless-steel and teak wood handrail, connects the first and second levels of the home. The second level houses the master bedroom, complete with a luxurious double shower bathroom, double vanities, and his & her teak wood closets. Both levels of the property offer direct access to expansive ocean-facing balconies through large glass slider doors.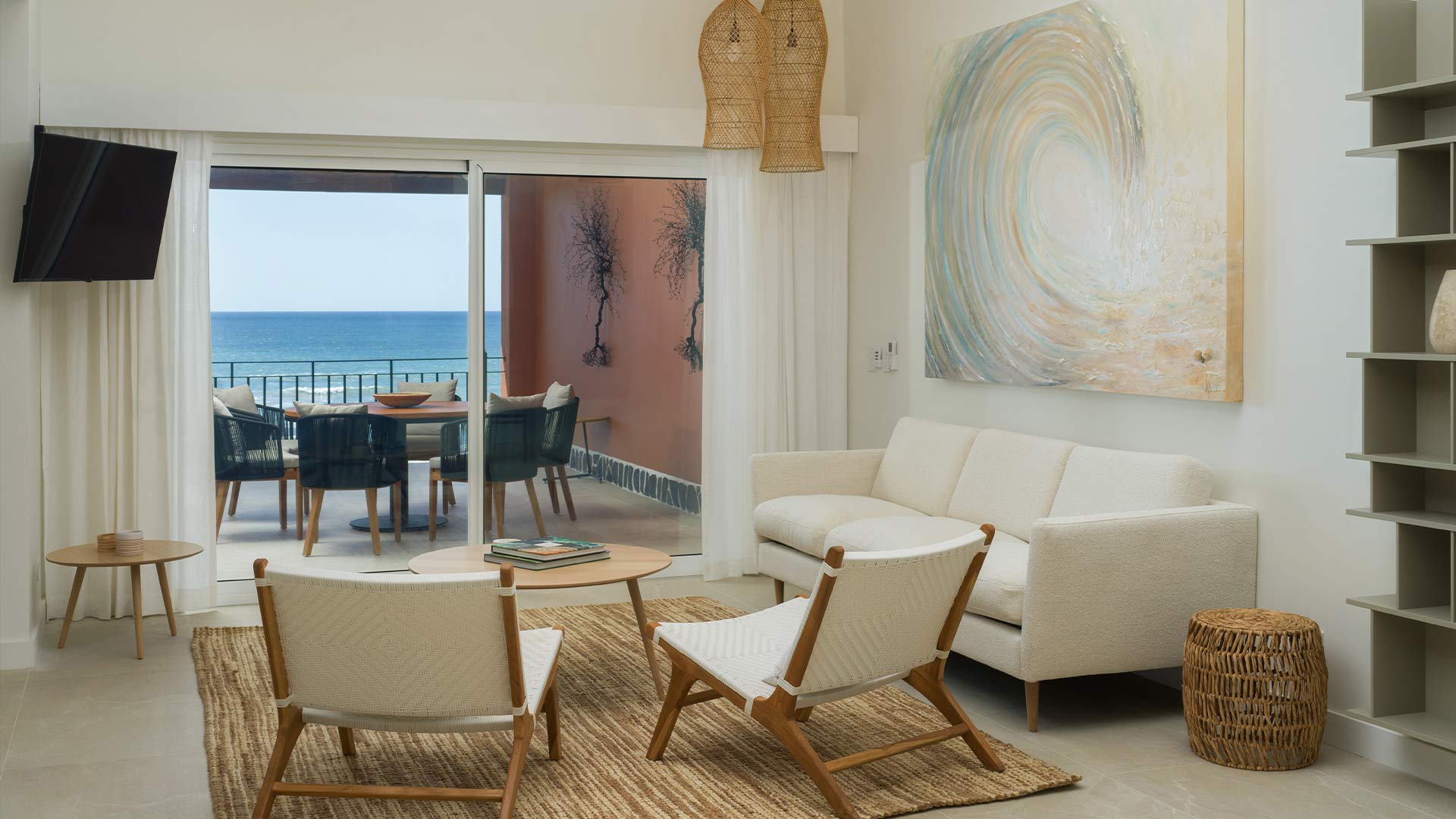 Artwork
To enhance the aesthetic and elevate the ambiance of the space, the clients enlisted the renowned local artist Malu Moreira from Brazil to create extraordinary large-scale paintings that harmonize with and complement the modern designer furniture pieces in the unit. The outcome is a sophisticated experience for guests, resulting in a property that exudes refined elegance and an unmistakable sense of artistic and design excellence.
View this project on HOUZZ.COM.
View this project on TAMARINDO PACIFICO.
Get in Touch for your condo remodel needs
Contact us today to explore the possibilities of building your own dream home with the Costa Construction Group. Let us guide you through the process of creating a space that reflects your unique style, while prioritizing sustainability and quality at every step.